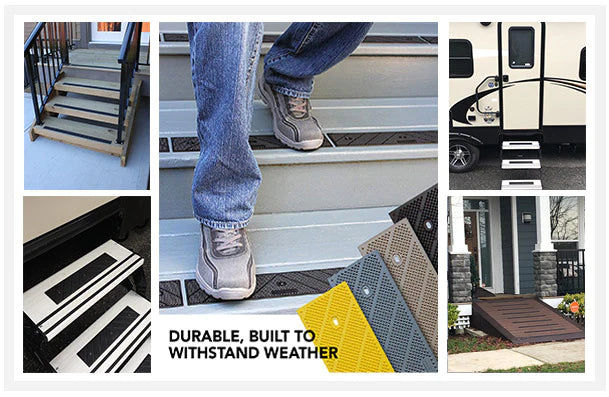 About Us
Established in 2007 CGS GripStrip Products Ltd. introduced the GripStrip®. Designed & Built-in Canada.
GripStrip's Anti-slip Stair Treads provide safer footing and may help prevent slips and falls. They are tough, long-lasting, and re-usable. GripStrips are resistant to weather, pressure washing, shovelling and even salting—no peeling or ripping!

Each GripStrip Anti-Slip Tread is pre-punched and slotted, there is no drilling required. Wood naturally swells with moisture and contracts as it dries, the slots are designed to accommodate this expansion.

We recognize there are times when a screw-down product just isn't possible or feasible so in 2020 we sourced what we believe to be a superior PVC-based Anti Slip tape.
Learn More
Anti Slip

Stair Treads

GripStrip is the perfect solution for your exterior steps, ensuring that anyone using your stairs never slips. These are durable, UV-protected and can endure all sorts of weather conditions, salt or shovelling.

Our durable GripStip is easy to install and provides added traction for exterior surfaces. We make it easier for homeowners and their guests to avoid slipping while entering or exiting their homes.

Safety

is Paramount

In Canada, more than 40,000 workers are injured yearly due to slippage and fall-related accidents. The first step in accident prevention: proactive measures. You can install GripStrip on wood or concrete for safer footing.

With quick installation times, you can simply use a Phillps screwdriver and use all 4 screws to secure your new GripStrip. Made in Canada, this durable plastic material is installed in minutes, an excellent safety precaution that may help prevent slips for homeowners, schools, retirement communities, contractors, property management companies, and much more. There is no peeling or adhesive, GripStips are a long-lasting aesthetic solution for slippery surfaces.

GripStrips are available in four different colours: Black, grey, beige and "safety yellow" for visibility. Available in over 1,000 stores across Canada.

Whether you require GripStrips to maintain worker safety, or if you are looking to improve the safety of your residential exterior steps, GripStrip is a superior option ready to work for you regardless of the weather conditions.

When you purchase and install GripStrip, you are taking the necessary steps to ensure ultimate protection and safety for your family, employees/coworkers, or visitors. With multiple aesthetic options to choose from and sizes for any application, you'll be sure to have a long-lasting and durable solution to ensure optimal safety on all exterior steps and surfaces.
Anti Slip Tape Products
Regular price

From $21.00 CAD

Regular price

Sale price

From $21.00 CAD

Unit price

per

Regular price

From $27.00 CAD

Regular price

Sale price

From $27.00 CAD

Unit price

per
Regular price

Sale price

$43.26 CAD

Unit price

per
Pre-cuts Strip Products
Regular price

From $20.00 CAD

Regular price

Sale price

From $20.00 CAD

Unit price

per

Regular price

From $27.50 CAD

Regular price

Sale price

From $27.50 CAD

Unit price

per

Regular price

From $29.00 CAD

Regular price

Sale price

From $29.00 CAD

Unit price

per
FAQ & Gallery
Why GripStrips?
The GripStrips are a long lasting solution to a common problem. GripStrips are not a peel and stick product; they are made with plastic and are very durable. GripStrips are weather resistant and can be installed in virtually any weather conditions – you don't need a dry day!
How long will installed GripStrips last?
For typical residential use, you can expect your GripStrips to last several years. There is a five-year UV pack within the raw material to help avoid the fading and crumbling one might expect from plastic.
The GripStrip was installed in a lottery prize home that saw over 100,000 people descend the steps over a two-week period. The GripStrip showed little to no wear and tear.
Periodically, inspect your strips for wear and damage and replace as needed.
Why should I install GripStrips? Nobody has slipped yet.
You are one slip or fall away from a guest, colleague, or family member seriously injuring themselves.
GripStrips can provide peace of mind that you are taking the proper precautions to avoid the worst-case scenario.
Can you install GripStrips on Concrete?
Designed for wood, GripStrips can be installed on concrete or metal with the appropriate screws (not included) to help provide safer footing. However, doing so may be more work because you have to pre-drill into the concrete/metal.
Can I cut the GripStrip?
It is not recommended that you cut your GripStrips. Instead, we suggest you use our smaller 12" x 2" GripStrips to accommodate the smaller areas.
Where can I buy GripStrips?
Our list of distributors continues to expand as our company continues to grow. All colors and sizes are available here on our website.
Why would I use anti slip tape?
We recognize that there are times when making holes into a surface isn't feasible, yet the area gets slippery. Installing a high-quality adhesion product is a great solution to help provide safer footing.
How long will the tape last?
We know that tape won't last as long as a plastic GripStrip, however, we have sourced a PVC based product that will be more durable than regular anti slip tape. When installed correctly the tape can last months or years depending on conditions i.e. interior vs. exterior, residential vs. commercial.
What is the return policy?
We stand behind our product and if there are any defects with the product we will replace it or refund your payment promptly. 
Return policy: We will accept a return within 30 days from the date of delivery. Product must be shipped back with reason for return and complete with all components/pieces including screws. Once the product is received then refunds will then be provided to the original form of payment less 10% restocking fee.
 Please contact customerservice@cgsproductsltd.com for a return authorization number and appropriate return address for your country.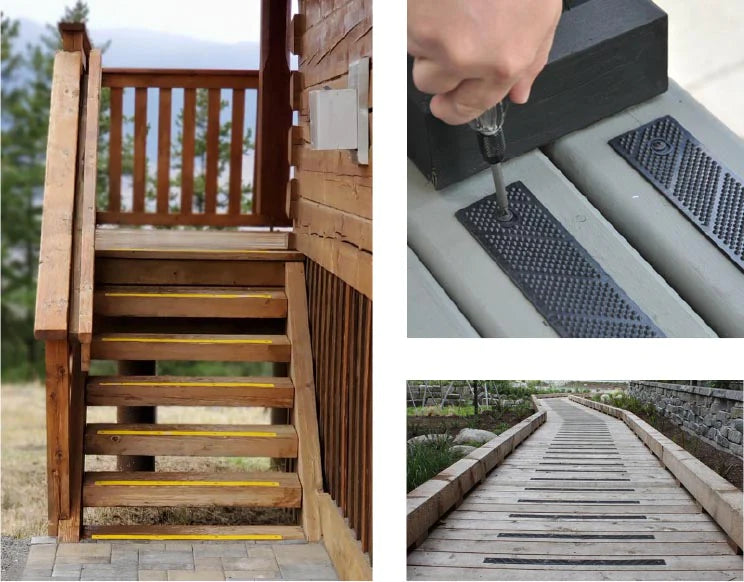 Does not slip in the rain!

I tried adhesive non-skid. It got waterlogged and no longer stuck to the handicapped ramp. These may cost just a little more, but they don't get waterlogged and come loose. Well worth the money! Very satisfied.

Jaden

My second set

I bought to finish outside steps at beach house. First set worked great, great traction, easy to install, and with buying the yellow easier to see at night. Would recommend to others.

Mark

Would buy it again.

Excellent product. Used it on wooden outdoor steps to prevent falls. Would buy it again for other projects.


JC

Great slip protection for composite decking stairs.

I recently had some composite stairs put it and when they got wet they were very slippery ( almost like walking on ice ). These went on ease and look like they'll be much more durable than the stick on tape solutions


Chuck

Delivered as promised.

I installed the grip strips and have made my wood stairs a lot safer when they are wet. I would recommend highly especially for wooden steps which can become quite slippery when wet. They work !!!!!

Nelson

These are amazing.

They work as stated. Rain or snow I feel safe with these stairs treads. Thank you!

Veronica

Excellent product for my outdoor rear deck.

Reasonable priced and very fast shipping. Will buy it again.

Ricci

Excellent product, no more slipping on the stairs!

Easy to install, rugged, looks great but most important they work!! Very happy with these stair strips.

Lori

I simply can't say enough about this company

The immediate and personal response I received from them as they solved the shipping issue and kept me in the loop. It's rare these days for companies to treat a customer with such dedication to service. The ones my daughter bought for me two years ago look almost new. I purchased more to cover outside steps and wholeheartedly recommend them.

Barbara